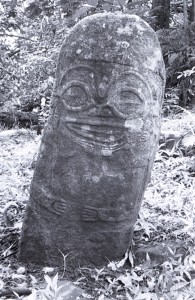 By Max Dashu
[Snip] The prophetess Pao was consulted by chief Kihapiilani, whose elder brother had forced him into exile from Maui. Before he could set out on the long voyage to Hawaii, he had to first get his wife's permission to leave: "As soon as he was allowed to go [!] Kihapiilani started for Waikapu where the prophetess [ke kaula wahine] by the name of Pao was living." Before his arrival, Pao had already predicted to her entourage that a chief was coming to petition her for assistance.
Later in the story, the chief's sister prevailed upon her husband to assist him in his war against the oppressive older brother. "At this, Umi decided that he must obey his wife's demand and so he gave his consent." [Fornander, Abraham, Collection of Hawaiian Antiquities and Folklore, 1917, pp] This story from one of the early written collections of Hawaiian history offers a unique perspective on women's authority—and it also gives an important name for tracking that.
Kaula wahine translates as prophet-woman, priestess, seeress. But I've found it difficult to locate more information on the female kaula. Fornander, like so many other early recorders of the traditions, used the European masculine default, which makes it impossible to tell whether he is talking about all-male "priests." In one place he does mention male and female. This male-default language is a major structural barrier that conceals women of power.